The Advisor, July 2023
June 28, 2023
What's New at GPW
Summer is in full swing in the Midwest and that means things are officially getting hot. This intense heat marks the middle of the year – a time of reflection and strategic planning. It presents us with an opportunity to assess the progress made thus far this year and set our sights on the path ahead.
We have some exciting events planned for July! Keep reading for an update on our Mid-Year Market Outlook presented in a new format, as well as important reminders about how an Annual Tax Calendar can help your financial plan stay on track. We'd also love to have you join us at our family-friendly summer happy hour / ice cream social on July 20th. (Details below!)
As always, if you have any questions or would like to discuss anything further, please reach out to our office at (316) 613-7570.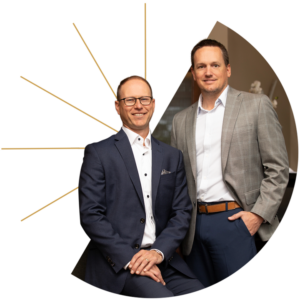 Jeff Wetta, RPS and Dustin Jackson, CFP® RICP®
Managing Partners
GoalVest Mid-Year Market Outlook
We will be presenting our Mid-Year Market Outlook in a new format this year. Our webinar presentation will be sent directly to you so that you can watch it as your schedule permits. Keep an eye out for this link in mid-July where Jeff, Dustin, and I will be briefly recapping the year-to-date market trends and sharing our thoughts on what the remainder of 2023 might look like.
Sevasti Balafas, CFA, CPWA®
CEO & Founder
GoalVest Advisory
2023 Tax Calendar
By: Maria Martin, CFP®
Most of us breathe a huge sigh of relief once our taxes are filed. But did you know that your taxes can play a major role in your personal finances, estate planning, and retirement goals? By implementing a tax calendar like the one below, we can help you make sure all the minute details of your tax strategy are addressed. The tax calendar is personalized to your goals and needs so reach out to our team today to discuss how we can incorporate this into your planning strategies.
Summer is a great time to begin your tax preparation for next year. If you do not already have a plan in place, please reach out to our office!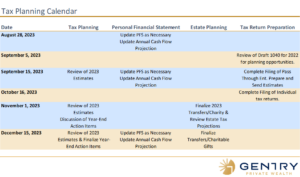 Join us for Summer Happy Hour!
We're hosting a summer happy hour and ice cream social! Join us at our office for ice cream and family-friendly fun to celebrate summer.
We encourage you to bring your family members or guests!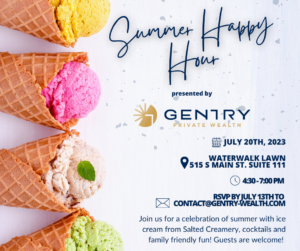 Holiday Reminder – Independence Day
Our office will be closed on Monday, July 3rd and Tuesday, July 4th in celebration of Independence day! If you have an urgent request, please leave a message for your advisor and they will get back to you as soon as possible.
Please note: Any trading instructions received after 10:00 AM CST on July 3rd will be processed on July 5th, 2023 when the market reopens.