The Advisor, November 2023
November 10, 2023
What's New at GPW
As we enter this holiday season, we are reminded of the importance of family and friends and the community they provide. We've welcomed two new team members to our Gentry community over the last few months. Take a look below for a short introduction to our new additions!
The past few weeks have brought many new headlines but we continue to focus on our clients, their portfolios and goals, and how we can continue to best serve them. This month's newsletter includes important economic outlooks, how to manage investment risk, and a few year-end reminders for 2023.
If you have any questions or would like to discuss anything further, please reach out to our office at (316)613-7570.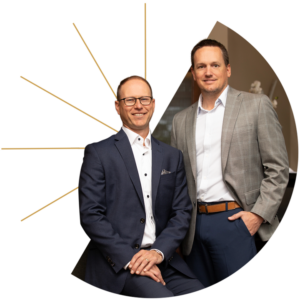 Jeff Wetta, RPS and Dustin Jackson, CFP® RICP®
Managing Partners
Your Executive Summary
Equities have traded slightly lower on the back of the Hamas attack on Israel and resulting conflict, which has caused an increase in geopolitical tensions. Broadly speaking, we don't expect this event to have a material impact on the earnings of our portfolio companies. US equities are outperforming international developed and international emerging equities; we remain strategically overweight to American companies. Dispersion by sector is high with communication services and technology leading year-to-date returns in the mid double-digit range. Utilities, Real Estate, and Consumer Defensive are some of the worst performing sectors year-to-date.
Fed chairman, Jerome Powell, hinted that the uptick in bond yields could help to slow the economy down and that the Fed is not increasing interest rates for now (as of November 1st). While the Fed opted not to increase interest rates in November, they could increase rates again if the upside risk to inflation materializes in coming months. Progress combating inflation has slowed in recent months. To bring inflation closer to target, the Fed will need to see moderation in the labor market. The ten-year treasury yield is now close to 5% as the market is pricing in higher interest rates. We expect this will be the norm over the medium term.
September CPI came in at 3.7% year-on-year and was 0.4% higher month-on-month, which was slightly ahead of expectations at 3.6% year-on-year. Core CPI ex-food and energy came in higher at 4.1% which was mostly driven by higher shelter costs (which were up 7.2% and accounted for more than half the uptick in CPI). Service prices continue to increase, coming in at 5.7% and the labor market remains robust with jobless claims ticking down to below 200,000 per week in October. The economy is strong, and the Atlanta Fed raised Q3 GDP estimates from 5.1% to 5.4%. Retail sales came in better than expected at +0.7% vs expectations of 0.1%, reflecting higher spending (as of October 20th).
Sevasti Balafas, CFA, CPWA®
CEO & Founder
GoalVest Advisory
Sources: Blackstone, JP Morgan Asset Management, Invesco, Carlyle, Wall Street Journal, Carlyle
Don't Forget! A few reminders before the end of the year.
The end of the year is a busy time filled with family, celebration, and the holiday spirit. As we finish out 2023, please be aware of several important reminders and deadlines:
Account Openings:
Any new account openings must be received by our office no later than December 1st so that we can process them by end of the year.
Money Movements:
Any end of year move money requests (RMDs, withdrawals, transfers, annual gifting, DAF funding, etc.) must be received by our office no later than December 15th so that we can process them by the end of the year.
Holiday Office Closing:
The office will be closed in observance of the Thanksgiving holiday on November 23rd & 24th. We will resume normal business hours on November 27th.
The office will be closed in observance of the Christmas holiday on December 25th. We will resume normal business hours on December 26th.
The office will be closed in observance of the New Year's holiday on January 1st. We will resume normal business hours on January 2nd.
Over the last few months, we welcomed two new team members! Lisa Fulbright joined our team in August as a Paraplanner. Lisa has worked in the investment industry for the past 11 years assisting financial advisors and helping them grow and develop their businesses. Lisa's primary focus in recent years has been financial planning. When she is not helping clients or building financial plans, Lisa enjoys spending time with her family, her dog Luna, and reading a good book.
Carmen Macías is our new Administrative Assistant and has spent most of her professional career in the nonprofit industry. In the past, she worked with organizations that promote community advancements and youth well-being. Carmen admires the art of relationship building and connecting with others. She looks forward to learning more about financial services and how to best support our clients. When she's not in the office, Carmen enjoys spending time with her dog, reading books, and playing the banjo.