The Advisor, September 2023
September 11, 2023
What's New at GPW
It's now September and Life Insurance Awareness Month is underway. So, what better time to discuss risk management and the specific tools that can be used to provide you with financial stability than now? This month we'll be featuring three reasons why you should incorporate life insurance into your financial plan.
We continue to diligently monitor the economic environment and have included our most recent update on the economy and our portfolio strategies below with insights provided by GoalVest Advisory.
As always, if you have any questions or would like to discuss anything further, please reach out to our office at (316) 613-7570.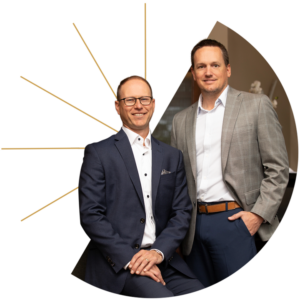 Jeff Wetta, RPS and Dustin Jackson, CFP® RICP®
Managing Partners
GoalVest September Outlook
The consumer continues to be strong entering September, as July retail sales data beat expectations. This was in part due to increased online purchases and restaurant spending. Goldman raised their Q3 GDP estimate by 0.7% to 2.2% because of the better-than-expected consumer data. At the Jackson Hole conference Friday August 24th, Jerome Powell suggested that inflation remains too high and that the Federal Reserve is prepared to increase interest rates further if inflation doesn't keep falling in an orderly way.
Positively, July headline CPI rose by slightly less than expected at 3.2%. Core CPI excluding food and energy also came in slightly below expectations at 4.7%, even though it rose 0.2%month on month. Shelter costs rose significantly at +7.7% and continue to be driven by supply shortages, higher wages, and a strong labor market. To bring core inflation closer to their 2%target, the Fed needs to lower consumer spending, service inflation, and shelter inflation. That said, we do not anticipate interest rate cuts this year. In our view, rates will either remain flat or increase slightly between now and the end of the year depending on the rate of inflation.
The equity market pulled back slightly over the last month as long-term bond rates increased and investors become increasingly concerned about the Chinese economy (particularly in their Chinese Real Estate sector). There has been a wide dispersion between the best and worst performing sectors in the US so far this year. Communication Services and Technology lead the pack and are both up more than 30% year to date, while Utilities and Defensives lag behind at -10% and -2% year to date (as of 08/30/2023).
In our portfolios, we continue to hold an allocation to large cap growth stocks through our S&P 500 allocation, our Vanguard US large cap growth ETF allocation, and our growth notes. In August we added several new growth notes with risk reward prospects that we view as favorable. We continue to hold a number of quality high dividend companies and remain confident in the strength of these companies, their ability to generate good earnings through the economic cycle, and their ability to pay dividends. In summary, we continue to focus on driving risk-adjusted returns for investors through our long-term investments in good quality American businesses, structured notes, and a higher allocation to alternative investments.
Sevasti Balafas, CFA, CPWA®
CEO & Founder
GoalVest Advisory
Sources: Bloomberg, Goldman Sachs, Invesco, JP Morgan Asset Management, Carlyle
3 Reasons Why We Use Life Insurance
1.) Family Planning
A death benefit can be used as income replacement for your beneficiaries so that they do not have to worry about covering routine expenses while they cope with your passing.
It is not uncommon to keep life insurance in place until your youngest family member or dependent has graduated high school or college.
2.) Estate Planning
If you are concerned about your estate possibly being depleted by long-term care expenses, life insurance can help. The death benefit can replenish your estate, upon your passing, for long-term care expenses paid during your lifetime.
For those that are charitably inclined or have legacy goals, life insurance provides you and your heirs with the cash needed to fund these goals.
3.) Business Planning
Life insurance allows key persons (i.e., business owners or executives) the ability to buy out family members if another key person passes away. This strategy is often used to ensure the business can continue after your passing while also allowing family members to more easily exit the business.
Help us congratulate Stacia Wetta, Director of Operations, on being featured in the Wichita Business Journal's Women Who Lead in Financial Services in their August 25th issue. The Women Who Lead Series features the top women in Wichita, their careers, and their insights on success.
When asked what Stacia likes most about her job, she reminded us of why we do what we do – our clients!
What do you like most about your job?
I am most proud of the community that we have created at Gentry. Over the years, our employees and clients have become like family. I love spending time with clients and getting to hear the stories of their travels, updates on their children and grandchildren, or that they finally purchased the vacation home they've been saving for. It's wonderful to know that, with our team's support, our clients are achieving their financial goals.